Clubmagazine The Badge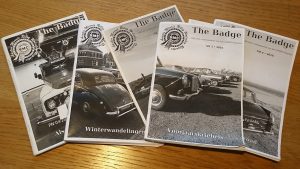 The Badge, het officiële magazine van het AMRWR, verschijnt 5 maal per jaar. Dit magazine wordt gemaakt voor en door leden.
Naast vaste columns, bevat The Badge een bestuursrubriek, verslagen van evenementen, technische artikelen, beslommeringen van leden en de rubriek 'Classified' waarin onderdelen en auto's te koop worden aangeboden dan wel gevraagd.

---
This website stores some user agent data (IP-address, country and page visits). These data are used to improve the website and the user-experience only in compliance with the European General Data Protection Regulation. If you decide to opt-out of any future tracking, a cookie will be set up in your browser to remember this choice for one year.

I Agree

,

I opt out

538