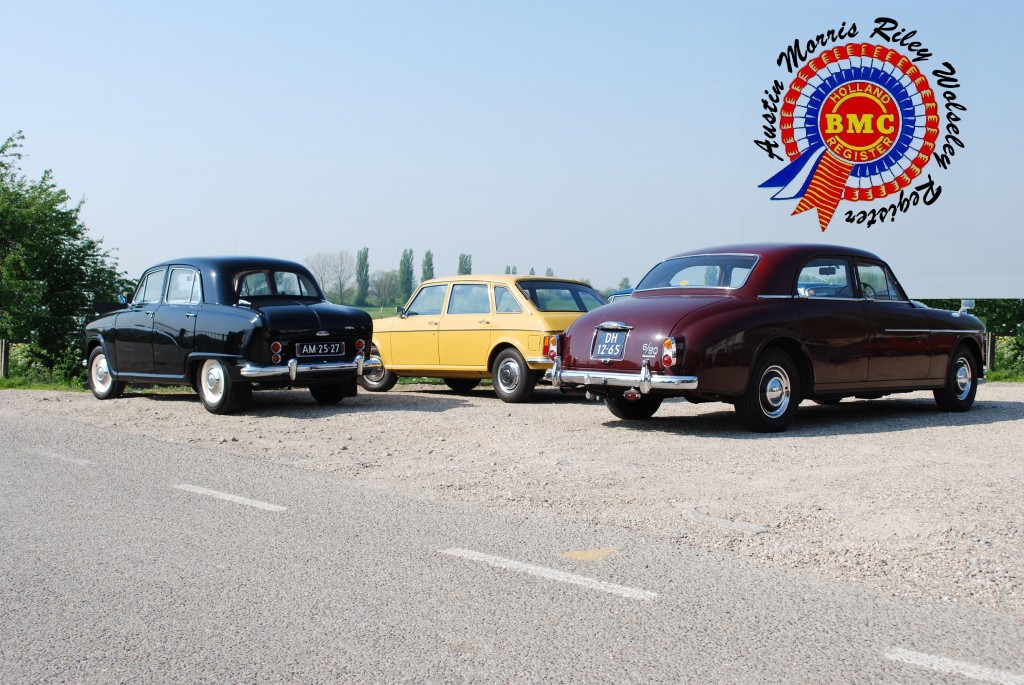 Welkom bij het Austin Morris Riley Wolseley Register (AMRWR). Dé plek waar liefhebbers van de merken Austin, Morris, Riley, Wolseley en diverse submerken samenkomen voor het behoud en genieten van dit rollend erfgoed.
Elk type van deze merken is welkom en dit zorgt voor een grote verscheidenheid aan auto's binnen de club: van een vooroorlogse Wolseley en Riley tot een Austin Princess of Maestro. Iedereen die een auto heeft van één van de merken Austin, Morris, Riley of Wolseley, of daar bijzonder in geïnteresseerd is, kan lid worden. Ook eigenaren en liefhebbers van de 'submerken' zoals, Vanden Plas, MG (Morris garages), Austin-Rover en MG-Rover zijn van harte welkom.
Het hoofdbestanddeel wordt gevormd door de zogenaamde 'Farina's' (Austin A60, Austin Westminster, Morris Oxford, Wolseley 16/60, Wolseley 6/110 en Riley 4/72), de zogenaamde 'Balanza's' (Austin 1800/2200, Morris 1800/2200, Wolseley 18/85) en 'Gliders' (Austin, Morris, Wolseley, Riley, MG, Vanden Plas 1100 en 1300 modellen). Binnen de club vind je daarnaast ook modellen, zoals de Austin Allegro, Austin Maxi, Austin Princess, Austin A30/35, Austin Maestro, Austin Montego, Austin Metro, Austin Ten en Seven, Morris Minor, Morris Marina en Morris Ital, Wolseley Ten, Wolseley 1500, Wolseley 15/50, MG Magnette, Vanden Plas 3 en 4 Litre. Werkelijk waar teveel om op te noemen!
---
EVENEMENTEN 2023
Laatste update: 22 september 2023
De planning wordt regelmatig bijgewerkt.
Houd ook de officiële berichtgeving via het clubblad The Badge in de gaten en tevens de E-mail, de Facebookpagina, Instagram en het AMRWR forum.
Zaterdag 11 en zondag 12 maart 2023 – stand British Cars & Lifestyle – Autotron Rosmalen, Brabant  GEANNULEERD 
Zaterdag 18 maart 2023 – Algemene Ledenvergadering – Woudenberg, Utrecht
Zaterdag 22 april 2023 – Voorjaarsrit – regio Amersfoort, Utrecht
Zaterdag 6 mei 2023 – Sleuteldag – Classic Paradise Nederhemert, Gelderland
Zaterdag 13 mei 2023 – clubstand op EMWalhalla – Louwman museum Raamsdonksveer, Brabant
Vrijdag 16 t/m zondag 18 juni 2023 – Clubweekend – Friesland
Zondag 25 juni 2023 – clubstand op British Auto Jumble – Waalwijk, Brabant
Zaterdag 26 augustus 2023 – Nazomerrit – Noord-Holland
Zondag 1 oktober 2023 – deelname Rollend Engels Erfgoed Evenement – locatie volgt
Zaterdag 7 oktober 2023 – Najaarsrit – Nieuw Millingen – Gelderland 
Zondag 22 oktober 2023 – clubstand Britisch Car Club Day – Expo Houten
Zaterdag 25 en zondag 26 november – clubstand op Eelde Classics – Eelde, Groningen
Zaterdag 9 december – Annual Brunch – The Old Peppermill – Hoevelaken